Fiduciary Investment Review Fund Consideration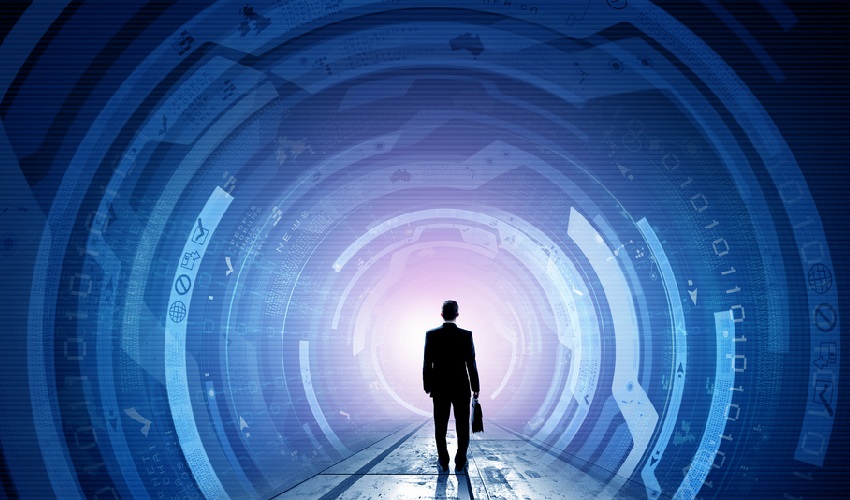 The video below covers an exciting RPAG enhancement to the Fiduciary Investment Review process. This new enhancement improves investment recommendations you would like to show your client.


The fund consideration step of the RPAG Fiduciary Investment Review process, traditionally, presented the top-scoring investment as an alternative to a failing plan investment, pulling directly from the the recordkeeper product selected for that plan. We've now given you more control over this process, by adding the ability to pull considerations from your firm's focus list or the RPAG CIT suite, as well as the provider product. With this new enhancement, We created a simple and clear step to the fund consideration process.
Users of the RPAG portal now have greater control over where the fund recommendations are pulled from. It's even easier to choose fund recommendations from your own focus list, mapping to the exclusive low-cost RPAG CIT's, or using the traditional provider product option showing top-scoring funds available on that provider product.
How it works
While creating the fiduciary investment review first, you'll review your fund lineup to ensure your funds and asset values are up to date by clicking the edit plan lineup button line up in Step One.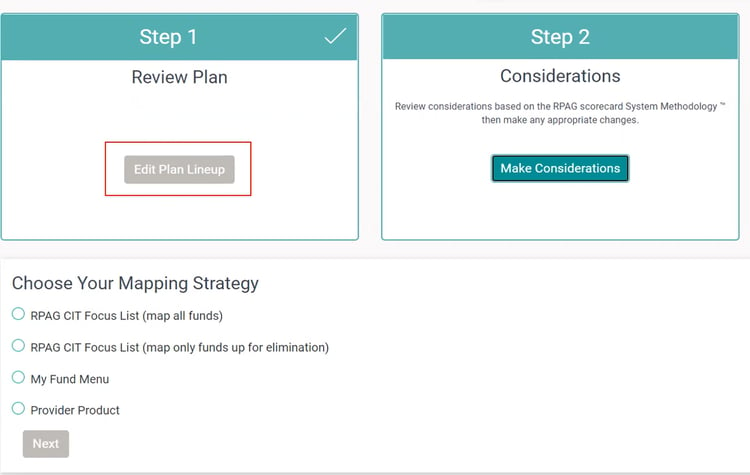 Next, select step two, "Make Consideration." After pressing the button, you'll notice a new "Choose Your Mapping Strategy" section has appeared. The system now gives you four different mapping strategy options.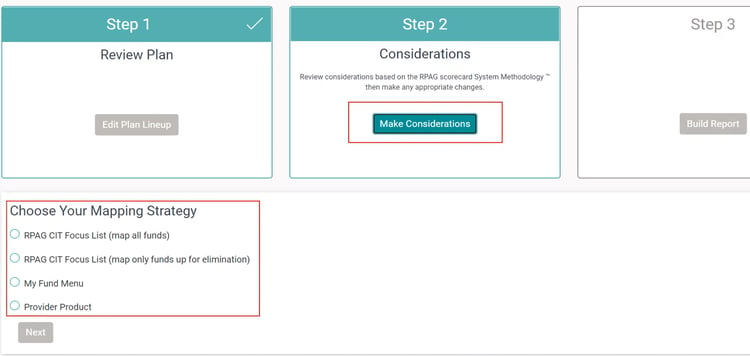 RPAG CIT Focused List (map all funds) will map all of the plan's current funds to RPAG CITs.

RPAG CIT Focus List (map only funds up for elimination) will map all the plans current funds that are up for elimination to our RPAG CITs.

My Fund Menu will allow the user to select their own investment source products from drop down menus that they've custom created through the "My Fund Menu" section in the RPAG main menu.

Provider Products This is the original option. With this option, the recognition provides a product or platform on the RPAG system.
_______________________________________
Looking for more information?
Contact the RPAG Support Team, support@rpag.com, to learn more about RPAG and get help with our Platform, or anything else!
Not an RPAG Member?